There are extensive choices of newer Android phones with better cameras and video features. As a video lover, you can shoot professional-quality videos with some of the best video editors for Android, which are available in the market.
Android phones are a favoured and preferred OS as they have flexible features, like top-notch quality cameras that allow recording top-level videos at your home and share it with your friends and followers.
With the increase in mobile videos, app creators have come up with creative solutions to provide the best video editing apps to video-savvy people.
Mobile app development has transformed video editing and sharing, enabling users to create pro-quality videos with ease. With user-friendly interfaces and powerful tools, video editing apps are becoming more popular and advanced as mobile devices evolve.



Must-Have Features Of A Video Editing App

DIY video editing is on the rise, and there are various features that you must consider before using an editor. An expert mobile app development company will implement the best features in video editor for Android that fulfill your needs and assists you in creating an awesome video.
There should be various types of filters available to select from: Videos would be of various types and would require filters depending on the occasion, location, theme, etc. These choices help edit the video quickly and make it easy to upload and share.


Other special effects like music, theme: A video can share its emotion with the help of the music and the effects used in it. If there are many options available, it assists the video creator in creating a perfect video with the exact message that they want to convey.
 

Other effects include lighting, hue, saturation, trim, crop, zoom, rotate, etc., that may not be perfect while shooting. These things are always given perfection in post-edits. Providing this facility in the app itself helps in building a great video.


Notifications and Updates: Notifications about saved videos, shared videos, updates on the app, etc., are some of the important features that should be available in the app.
These points are useful not only in selecting the best video editor for Android but also in selecting other mobile video editors.
For the interested video creators out there, we have curated a list of some of the best free video editing apps for Android.

1. In-Shot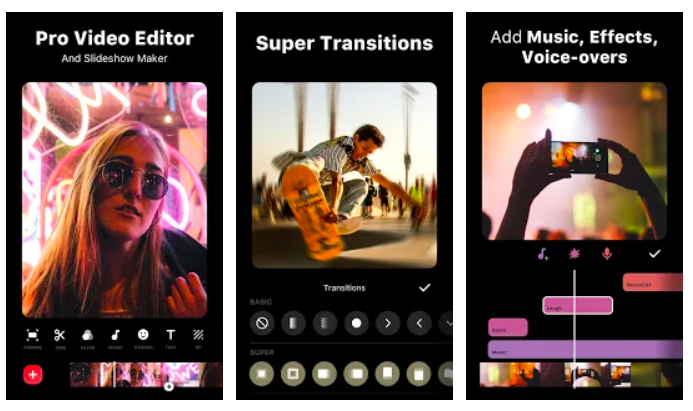 In-Shot is one of the most preferred, and the best video editor for Android due to its multiple features. 
It comes with a video trimmer that allows trimming videos of any length, making them short clips, adjusting video speeds as required, easily. This video editor has a blur option for videos to provide a blurred background to it.

Many other effects are available for video editing, like adding music and text to the video, filters, rotating the video, etc.

It has emojis and stickers that can be added to the videos.

You can also share the video in a single click,  without losing the video quality, to social media platforms like Instagram, Facebook, Messenger, Twitter, etc.

Watermarks and ads come with the free version, which is a downside to it.

2. FilmoraGo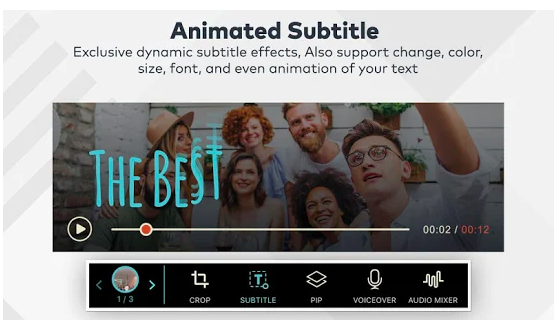 If you are looking for an editor with a  video making app that can provide you with videos without any watermark, then FilmoraGo is the one you can select.
You can select any video from your system and start editing on it easily. There are a bunch of drag and drop options that make it easy to edit and share.

While adding text to the videos, you can take the help of 'text multiple edit effect' by FilmoraGo, which supports Microsoft Word.

It has a collection of licensed songs that can be used for editing.

Special transition effects like Split, Dissolve, Wipe, Zoom, and Shutter are offered; and you can also combine multiple pictures and videos in it easily.

It supports more than 12 languages, one of the many features that some of the best video editors for Android have.

3. Quik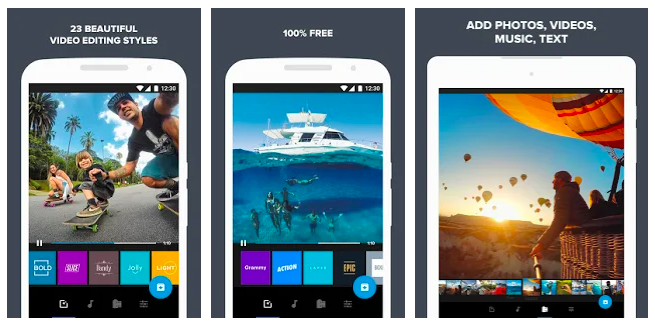 One of the best video editors for Android that has been popular amongst many is Quik. One of the many specialties of this app is adding 75 photos and videos from your albums and gallery in your phone and editing them seamlessly. 
You can add pictures from Dropbox, Google Photos, and even your Go-Pro albums.
It has a stored library of 80 songs, which can be added as required.
If you use Go-Pro for videos and want to edit the videos taken from it, Quik can get the images and videos directly from the GoPro footage.
It has a huge library of 23 themes to select from.
Saving and sharing become easy as it provides videos in 720p and 1080p. It creates a Quik link and allows sharing it through email and social networks easily.

4. KineMaster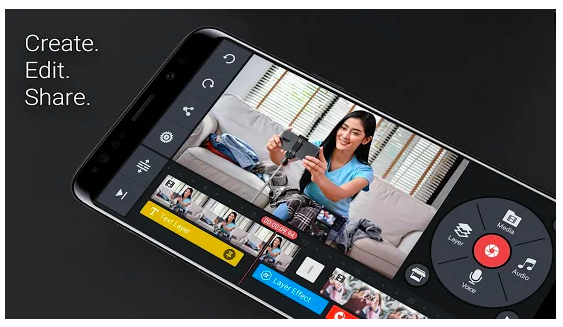 Kinemaster has proven to be one of the most effective editing apps for video due to its ease of use. It can be used effectively on your phone, tablets, and desktops, proving to be going strong on being one of the most popular Youtube editing apps as well.
It is loaded with professional edits that offer to export and edit videos in 4k.
You can easily record and edit multiple layers of videos, images, texts, audio, animations, stickers, handwritten texts, etc.
It has an asset store that has numerous songs, stickers, fonts to choose from, which is updated weekly.
Watermarks are present in the free version, but with the premium version of Kinemaster, there is no watermark.

5. VivaVideo

With over 12 million downloads in the App Store, VivaVideo has made its mark of being one of the best video editors for Android. It was also voted as the 'Powerful Video Editor App' by notable Android Bloggers in 2019.
It offers the Pro version for free with all features to check out.

It comes with professional-level video edit feasibility with high-quality music, transition effects, and other features such as trimming, cutting, merging, and splitting videos easily.

You can easily create videos in slow motion, add subtitles to it, add sound effects in those videos, and share it in high resolution up to 4k.

6. VideoShow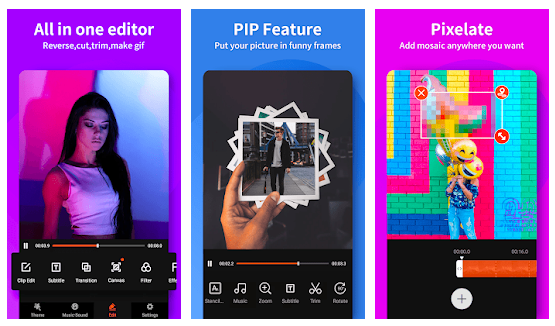 VideoShow is an excellent and one of the best video editors for Android, that is free to use. There is no issue of watermarks in this, as the videos do not have them. Thus, people can use it without any hassle.
There are more than 50 themes and 30 filters available to choose from.
You can explore your interests in creating memes, videos, and gifs, with the help of the available stickers, sound effects like animal noises, text formats, etc.
You can use your photo album to create videos, gifs and also, doodle on the videos as you desire.
It supports more than 30 languages and is compatible with all Android devices.
There is an option to compress the video size if you need it. It won't affect the quality of the video while doing so.

7. Action Director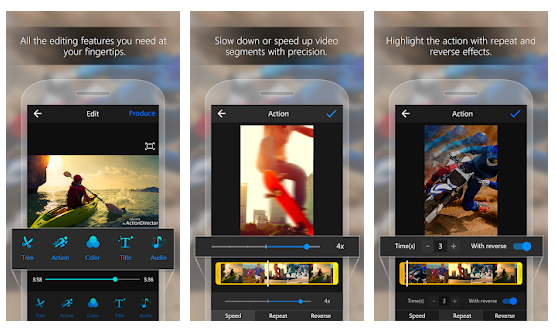 Action Director has a 4.5-star rating, and that shows that it is worthy of being one of the best video editors for Android. This editing app is very simple to use and is suitable for the desktop too.
It has Ultra HD 4K video editing, one of the unique features offered, which can be done on your phones easily, like on a PC.
It has sound, video, and trimming effects, which make it a professional-level video editor.
You can add 'repeat and rewind' video effects to your videos to amaze your audience.
You can also add background music, texts with shadows, borders, etc.
It supports more than 9 languages and the latest Android version.

8. Funimate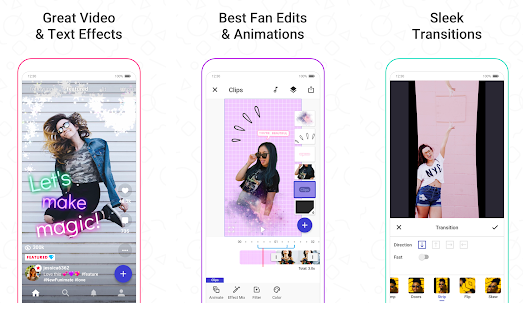 This app is very famous with video creators, as it provides various features to select from. Funimate has a community where one can share their videos and increase their followers. Because of such a unique feature, Funimate is popular and one of the best video editors for Android on the app store.
It has more than 100 effects to create normal and music videos in real-time.

With the plethora of sound effects, trimming, emojis, stickers, etc., you can create any desired lip-sync, fun, and entertaining videos.

You can share it to social media platforms directly and also create short loop videos as required.

One of the unique attributes of this app is the option to share videos privately. You can securely share the video with your desired audience, like family and friends, from the app itself. This is why Funimate falls under one of the best video editors for Android.

9. YouCut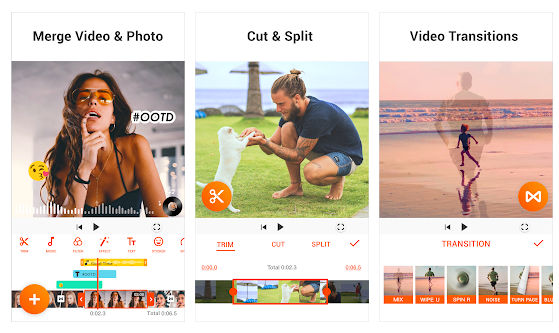 This app has the pride of saying that it does not have any watermarks on the videos created in it, plus, there are no ads. With such a special offering, it is one of the most feature-rich free video editing apps, and there is no doubt why it has a 4.8-star rating.
YouCut has video splitter and joiner and can also rotate, compress, and combine the videos when needed.

It offers a photo slideshow maker with all the video effects you need to create a masterpiece video.

You can change the video background, customize the filters, and also flip videos as you like.

Sharing videos without losing the quality of the video is a feature that makes YouCut worthy of being amongst some of the best video editors for Android.

10. PowerDirector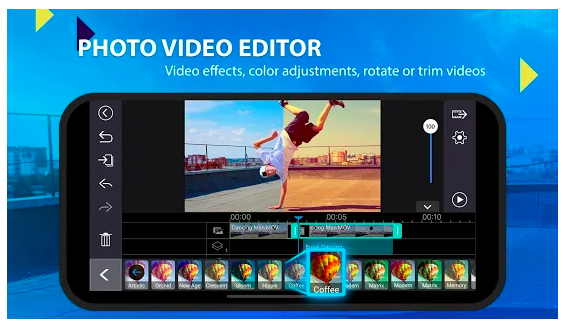 Everyone faces issues with shaky videos while shooting, but PowerDirector has the solution to it and rightly earns being one of the best video editors for Android.
You can create fast and slow-motion videos and adjust their colour, saturation, rotation, stability, etc. while editing them.
You can create double-exposure videos using blending-modes available in the app.
Drag and drop make it easy to create and edit videos.
The free version has ads, banners, which can be avoided if you opt for the premium version.


Conclusion

Every day there are new apps on the play store that make it easy for you to answer the question: How to edit videos?; as there is a multitude of options to choose from. These apps cater to everyone, and it depends on your video requirements, to select one out of the many available. Our list of must-haves would also help you out in downloading the best video editor for Android.

To be precise, no app is 100% perfect and has all the features you desire, but if you compare their features, you can select the best video editor for Android out of them.